NOTICES
Morning Prayer in St Ben's and our Benefice

Come along to join us in the Office of Morning Prayer held in St Ben's on Wednesdays at 9am. Morning Prayer is also held on Tuesdays in St John's, Thursdays in St Mary's Meare and Fridays in St Margaret's Chapel, all at 9am.
GENERAL INFORMATION
For downloads of daily readings and other news items that could affect you, take a look at St John's News page by clicking here.
Hiring our building and booking events
If you want to hire our building or book a wedding, baptism or other service, please go to our Get in Touch page.
Official Noticeboard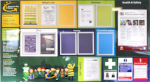 Click the picture to go to our page for official notices and documents. Note that details of services and other activities are not posted there.
Inclusive Church

St Ben's is part of the Inclusive Church network. Click on the logo to read more on our Who We Are page.

Click the icon to check us out on Facebook
Our Google events calendar can be viewed here
SAFEGUARDING
Safeguarding refers to the range of plans and activities that are put in place to protect children and adults who may be vulnerable to abuse and neglect from being harmed. Safeguarding in the church community – making our church safe for young people and vulnerable adults – is everyone's responsibility.
Our Parish Safeguarding Policy can be viewed here.
If you wish to report concerns or possible abuse, please contact one of the following: