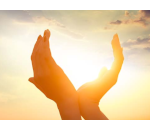 A group meets for contemplative prayer every Thursday at 3.30pm in the Lower Hall of Our Lady St Mary of Glastonbury (behind the Catholic Church on Magdalene Street).
There's a short introduction from (for example) the Desert Fathers, Benedict, Ignatius of Loyola, the Carmelites – Teresa of Avila, John of the Cross, Brother Lawrence (The Practice of the Presence of God). This is followed by half an hour's silence, after which there's an opportunity for sharing.
For more information phone Helen Marquis on 01458 831267.